website-favre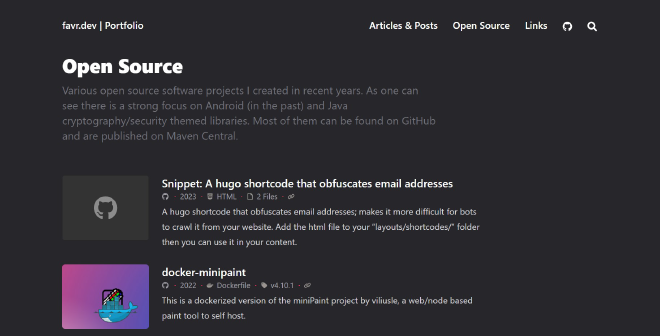 The source for my private website powered by hugo a static code generators and typescript/node based CLI to fetch my content from various sites..
Table of Contents
Static Site Gen Repo for my Personal Website #
A simple website with a list of all of my open source projects and articles I wrote. Can be found on favr.dev. Uses Hugo as static site generator.
Prepare #
Install Hugo #
Windows choco install hugo-extended
Mac brew install hugo
Install Node #
Currently, this project uses Node 18.12.0 (lts). It is recommended to use a node version manager like nvm.
Cloning Project with Submodule #
This project uses a git submodule for including the theme. To correctly clone it you need to do
git clone https://github.com/patrickfav/website-favre.git


git submodule init


git submodule update

Build & Run #
Prepare Content Sync #
Install and link everything and build the js files from typescript with
cd

 content-downloader


npm run package

then either run it with
or use the shortcut that automatically rebuilds the sources
which will populate the directories content/opensource and content/articles.
Linting #
This project uses eslint to validate the code:
cd

 content-downloader


npm runt lint

Using the build & run Docker Image #
A docker image that builds everything, updates the content and then can be used to locally serve the website with nginx can be created by doing:
docker build --no-cache --progress

=

plain -t websitefavre:latest .


docker run -p 8080:80 websitefavre:latest

and then you can access the page with http://localhost:8080
License #
Proprietary: Patrick Favre-Bulle 2023